Rent a Car Málaga Downtown
Rent a Car in Málaga Downtown: An Enlightening Guide
The city of Málaga, with its vibrant cultural scene, inviting weather, and charming architecture, is undoubtedly a gem in Spain's Costa del Sol. It offers a delightful blend of modern comforts and historical gems. And what better way to explore this magnificent city than in the comfort of a rented vehicle? In this article, we'll delve into the ins and outs of "Rent a Car Málaga Downtown," your passport to a unique and memorable travel experience.
Rent Rent a Car Málaga Downtown
Address
Málaga, Málaga, España
Location Fees
Pick-Up:

23 EUR

Return:

23 EUR

Early Pick-Up:

0 EUR

Late Return:

0 EUR
Business Hours
Mondays:

08:00 - 20:00

Tuesdays:

08:00 - 20:00

Wednesdays:

08:00 - 20:00

Thursdays:

08:00 - 20:00

Fridays:

08:00 - 20:00

Saturdays:

08:00 - 20:00

Sundays:

08:00 - 20:00
Why Choose to Rent a Car in Málaga Downtown?
Imagine the freedom of cruising down the quaint streets of Málaga, unburdened by strict bus schedules or expensive taxi fares. Renting a car provides the convenience and flexibility to explore Málaga on your terms. Whether you're keen on an impromptu road trip along the Andalusian coastline or a relaxed afternoon drive to the city's many museums, "rental car Málaga Downtown" is your answer.
So, Where to Begin?
Google, "Rent a Car Málaga Downtown," and you're likely to be overwhelmed with options. Here's where I impart my bit of bias. Having traversed the labyrinth of car rental options, my choice would lean towards companies with a solid reputation, transparent pricing, and a broad selection of vehicles.
Now, a curious mind might wonder, "Why should I specifically look for a car rental near Málaga Downtown?" Well, we're about to uncover the mysteries of this highly-rated choice. Hang tight.
Advantages of Car Hire Málaga Downtown
Location, Location, Location: Downtown Málaga is the city's heart and soul. It's a short distance from popular attractions like the Picasso Museum, Málaga Cathedral, and Alcazaba. So, finding a "car hire Málaga Downtown" ensures you're in the centre of all the action, right from the get-go.
Variety: Downtown car rental companies offer a vast array of vehicles. From compact cars for solo travellers to family-sized vehicles for large groups, there's something for everyone.
Ease of Return: Renting from Downtown allows for easy vehicle return. No more rushing through city outskirts trying to locate obscure car drop-off points.
But wait, there's more! Let's explore some car rental tips that aren't typically in the spotlight.
Lesser-Known Tips for Car Rental in Málaga Downtown
Off-peak Discounts: Believe it or not, the time you rent can make a difference to your wallet. It's often cheaper to rent a car during weekdays or off-peak season.
Fuel Policies: While "full to full" policies are quite standard, some companies may offer "full to empty" with a charge for unused fuel. Make sure to clarify the fuel policy before driving off.
Early Booking: You might think I'm a bit daft, but booking your rental car at the same time as your flight and accommodation could save you some quid.
I'm sure by now you're revved up about "rent a car Málaga Downtown. But before you put the pedal to the metal, remember, the best journeys aren't simply about reaching a destination, they're about experiencing the journey. And with a rented car in Málaga Downtown, you're all set for an unforgettable journey of discovery.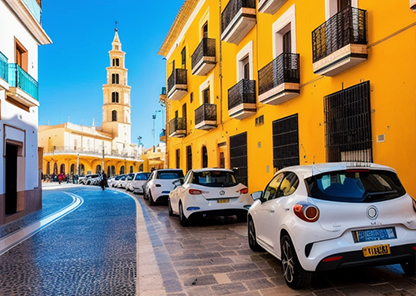 So, why wait? Start planning your Málaga adventure today. You'll soon be behind the wheel, soaking up the sights and sounds of this extraordinary city at your own pace. And that, my friend, is the magic of "Rent a Car Málaga Downtown.
Don't wait, secure your Car Hire Málaga Airport and make the most of your trip!
Don't let valuable time slip away – reserve your Car Hire Málaga Airport with us today. Our dependable service, conveniently available at Car Hire Málaga Airport, ensures a seamless start to your journey. Don't hesitate – secure your transportation now and embark on an unforgettable adventure, exploring the wonders of Málaga with convenience and ease.