Rent a Car Marbella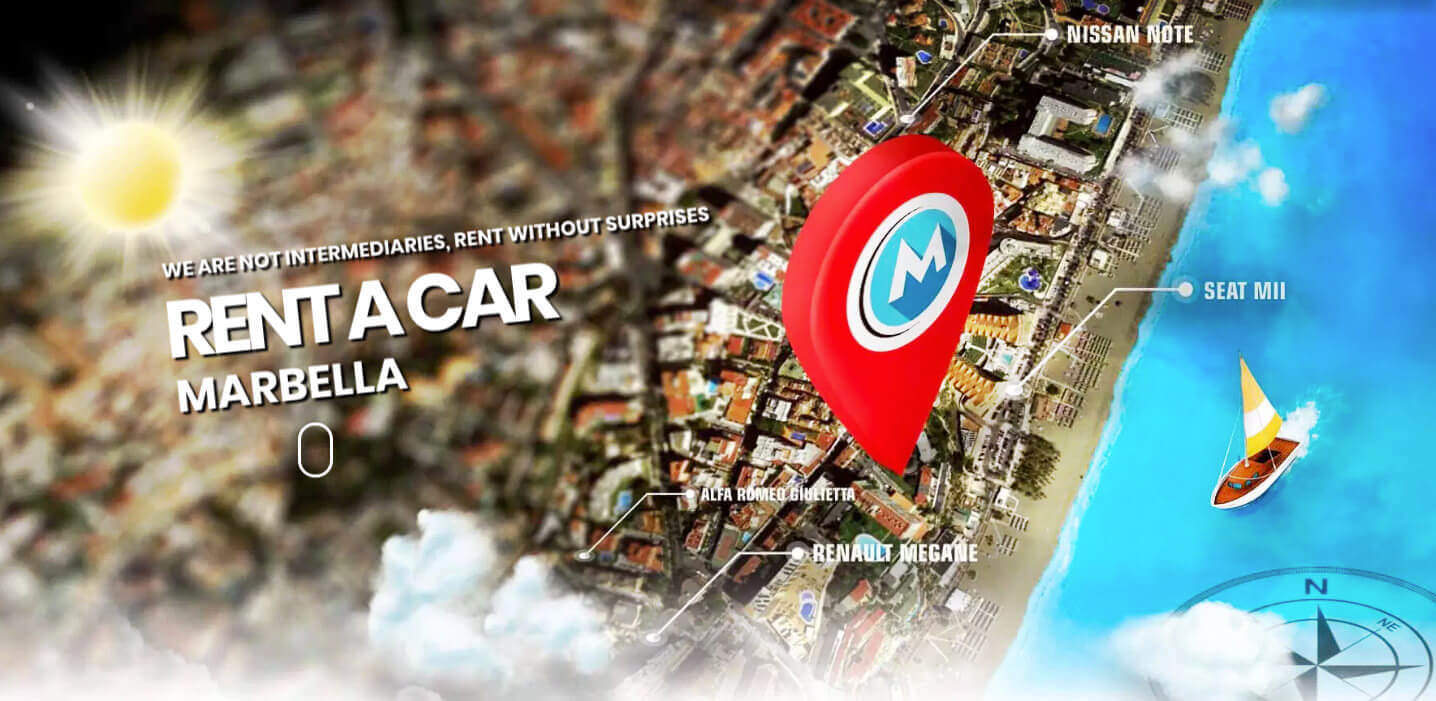 Discover the Magic of Marbella with Our Rent a Car Services
Welcome to Marbella, a sun-soaked utopia situated along Spain's renowned Costa del Sol. A stunning blend of pristine beaches, historic architecture, vibrant nightlife, and exclusive shopping makes this city a perfect holiday destination. And to truly unlock Marbella's magic, nothing beats the convenience and flexibility of a rented car. So, come on in, let's delve deeper into the world of "Rent a Car Marbella" and see what makes it the ultimate travel companion.
Address
Avda. Naciones Unidas, Nº 46, Puerto Banús, Marbella, Málaga 29660, España
Location Fees
Pick-Up:

0 EUR

Return:

0 EUR

Early Pick-Up:

30 EUR

Late Return:

20 EUR
Business Hours
Mondays:

09:00 - 18:30

Tuesdays:

09:00 - 18:30

Wednesdays:

09:00 - 18:30

Thursdays:

09:00 - 18:30

Fridays:

09:00 - 18:30

Saturdays:

09:00 - 14:00

Sundays:

Closed
The Freedom of Car Hire in Marbella
The idea of public transportation is appealing, especially when you're in a foreign country. It's budget-friendly, reduces carbon footprints, and can sometimes offer a unique cultural experience. However, it's not always rainbows and sunshine. The bus that's late, the crowded tram, the train you missed by a second, all add unnecessary stress to what should be a relaxing holiday.
This is where the benefits of car hire in Marbella shine through. A rented car provides you with unparalleled freedom and flexibility. Want to start your day with a morning swim at Playa de la Bajadilla? Or perhaps, you'd like to take an impromptu trip to the historic Alameda Park? With a rental car, the choices are infinite and entirely up to you. It's like having a magic carpet, ready to whisk you away on your next adventure at your command.
Find Your Ideal Rental Car in Marbella
Every great hero needs an equally great steed. In the realm of travel, your rental car is your loyal companion, ready to carry you across the landscapes of your journey. And at "Rental Car Marbella", we ensure that you find a perfect match.
Be it a solo journey of self-discovery or a fun-filled family vacation, we offer a wide range of options to suit your needs. From compact cars that zip through the city streets to spacious SUVs for those family outings to luxurious convertibles for a romantic ride along the coast, we've got it all.
And it doesn't just stop at selection. Our cars are well-maintained and equipped with all the modern amenities to ensure a comfortable ride. We also have an easy and hassle-free rental process with a team ready to assist you every step of the way. After all, we want your car rental experience in Marbella to be as smooth as the city's sandy beaches.
Getting the Best Deal
Of course, money matters. Traveling is all fun and games until you have to deal with hidden charges and unfair pricing. But don't worry. At "Rent a Car Marbella", we believe in complete transparency. Our competitive pricing and an array of budget-friendly options ensure you get the best value for your money.
The Heart and Soul of Marbella
Having your own car in Marbella opens up a world of opportunities that would be difficult to access otherwise. It's not just about the well-known spots, but also about the hidden gems that often get overlooked.
Take a drive to the charming old quarter of Marbella and explore its narrow, winding streets. Visit the Plaza de los Naranjos, a historic square with buildings dating back to the 16th century. Drive along the Golden Mile and take in the scenic views. Or simply park your car by the beach and enjoy a magical sunset. With your own car, you can experience Marbella at your own pace and on your own terms.
Rent a Car Marbella: Your Ticket to Adventure
In conclusion, Rent a Car Marbella is more than just a car rental service. It's your ticket to an unforgettable Spanish adventure. It's about the freedom to explore, the convenience of moving around, and the joy of discovering the magic of Marbella.
As someone who's spent years in Marbella, I can confidently say that there's no better way to experience this wonderful city than with a rented car. So, what are you waiting for? The road is calling, Marbella is waiting, and your adventure begins with "Rent a Car Marbella".
Don't miss out, secure your Car Hire Málaga Airport for a smooth travel experience!
Make the most of your trip by reserving your Car Hire Málaga Airport with us today. Our reliable service, conveniently offered at Car Hire Málaga Airport, ensures a seamless start to your journey. Don't let the opportunity slip away – secure your transportation now and enjoy a stress-free exploration of Málaga and its surrounding areas.